Trade show and Sponsorship
Trade Show and sponsorship
One of the highlights of the event is the trade fair.
Come to the congress and get to know our industry suppliers who will be ready to show their products and services that will help you provide a better service in your business. On Wednesday 15th, half a day will be reserved exclusively for the trade show and on Thursday 16th you will be able to visit the trade show as of 8 am.
We are pleased to welcome already the following exhibitors to this year's show: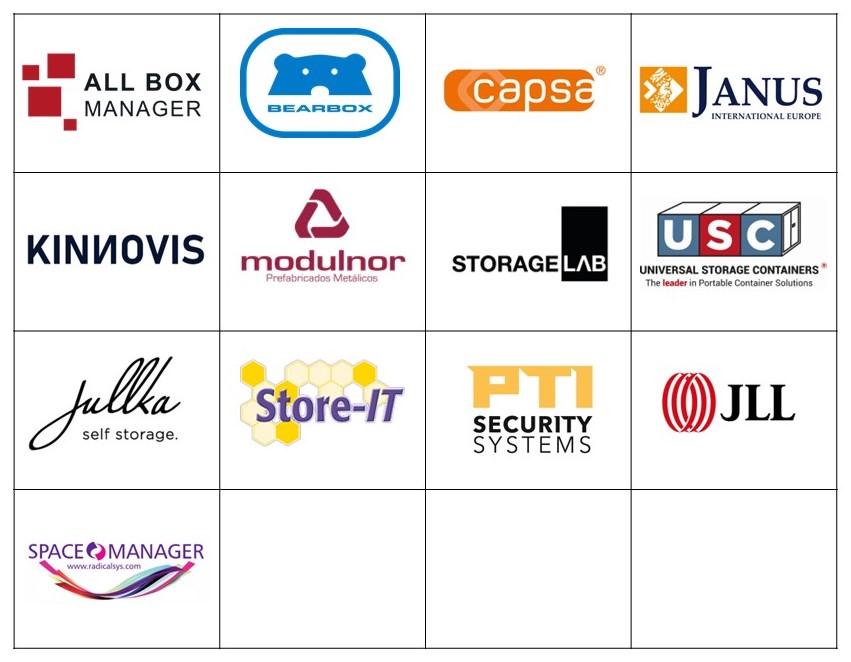 Industry Supplier? Why sponsor or exhibit?
Establish or consolidate your brand in the growing self-storage sector.
This event is a great opportunity to promote your company to hundreds of owners, operators, investors and others interested in this rapidly expanding sector.
The trade show will be one of the highlights and an opportunity to showcase your products or services to attendees. The trade exhibition is an important part of the conference and allows delegates to meet a range of industry suppliers in one place.

This is your opportunity to benefit from the exposure this event offers, gain new customers, launch new products, meet with existing customers and learn about the issues facing the industry and how operators in Spain will overcome these challenges.
If you are interested in exhibiting or sponsoring at the event conference, please email Sole Martinez ([email protected]) or Paola Barraza ([email protected]) or download the Sponsors and Exhibitors brochure below.

AESS Self Storage Conference 2023_English.pdf

AESS Self Storage Conference 2023_Spanish.pdf